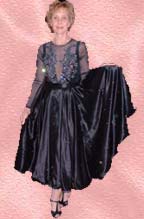 Studio
S
Ballroom Dresses
---
Rates for Ballroom Dresses - Latin and Smooth
Designing and Sewing Lessons: In one set of ten three-hour lessons you can complete a latin dress or a smooth style dress - depending on your familiarity with sewing and the amount of work you do on your own at home. Lessons are held on Saturday afternoons at Studio S. You have six months in which to use your ten lessons. Ten 3-hour lessons are $300.00 plus the cost of fabrics, notions, and adornments.
<
Full Service Tailoring by Siggi: Don't want to Sew? Then I will design and sew your very own ballroom or eveningwear outfit. Prices depend on your fabric choices as well as the complexity of the design and amount of adornment. A latin dress typically costs about $900 while a smooth style gown may run between $1500 and $3000 (well under half the price of many ballroom gown designers).
Rentals and Sales: Arrange a private appointment at Studio S to view the ever increasing selection of ballroom dresses available for rental or sale.
Rental costs depend on the style of the dress and run between $100 and $200 for up to two weeks rental.
Sales: Practice skirts $175.
I have a line of mens' ballroom outfits too:
Men's Latin Shirts $75. Men's Body Shirts $80-115 Men's Vests $189.
Contact me today!

Contact Siggi for More Info or an Appointment!
---