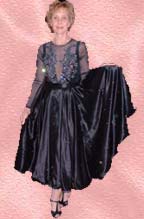 Studio
S
Ballroom Dresses
---
Pictured below are a few examples of the Men's Vests and Men's Shirts adorned by Siggi. Men's Vests have fancy fabric on both front and back sides (in lieu of the usual plain silk lining material on the back of a typical man's vest). Vests and shirts can be made to order and a limited supply is on hand at the studio.
Men's Vest: Blue & Silver

Front & Back: same material

Men's Vest: Maroon: Front & Back: same material
Men's body shirt with Swarovoski crystals added.
Slinky Black T-shirt with Swarovski Crystals added
Close-up of crystal design added to men's Slinky T-Shirt

Contact Siggi for More Info or an Appointment!
---